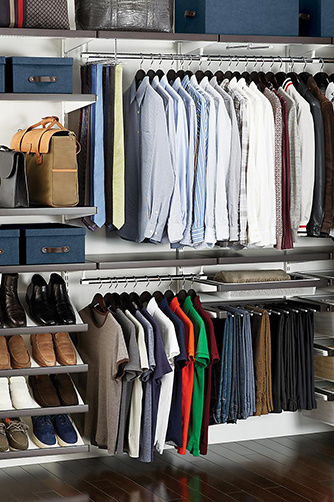 Having an organized living space can make the difference between having a "house," and having a "home." Maintaining organization within your home can be difficult, however, especially in today's fast-paced economy. The laundry is never-ending, the pantry constantly needs to be restocked, and cleaning the garage is a permanent fixture on everyone's weekend "to do" list. Where do you start? You buy plastic bins to sort everything, but over time those start to pile up as well.
The RF Installaions Closet Program is your solution to the nightmare of home organization. We partner with the top companies in home improvement to bring you professional and reliable service from experienced and licensed installers. Obtaining a clean and functional space doesn't have to be a hassle; contact us today and let us show you how!
---
You can expect our Installation Teams to:
Have a clean, neat, and professional appearance with proper installer identification.
Walk the project with you and explain the installation process and necessary steps (e.g. evaluating access to power, determining approved parking areas, and suitable area for a workstation).
Show respect for you, your home, and your property.
Use drop cloths and proper protective materials (if needed) to protect your property from damage and debris during the installation.
Keep you informed of the status of the installation project and answer any questions that might arise during the installation.
Perform a quality installation to your expectations and the industry standards.
Complete the installation in a timely manner.
Review the completed project with you and answer any questions you may have.
Ensure all pertinent product paperwork is given to you at the completion of the project.
Leave all work areas clean and free of debris. Remove all installation trash and debris from the jobsite.
---
Copyright 2019 RF Installations L.L.C. All Rights Reserved.