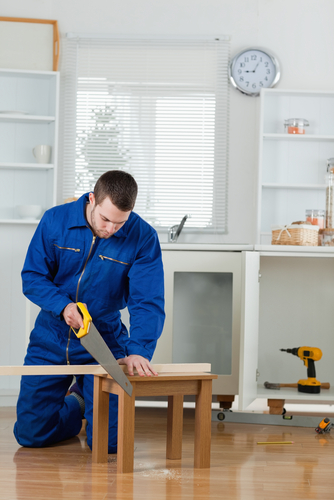 A kitchen remodel and cabinet installation project can be the most invasive and emotionally draining of any home improvement project. We understand the seriousness of your kitchen projects and have evolved our processes over two decades to ensure that your project goes smoothly. The most important thing is to get the measurement right. Our installers know this and spend extra time to get your kitchen measurement 100% right every time. They combine their years of installation experience with proprietary measurement technology to ensure that your project dimensions are precisely recorded.
Our designers then create your dream kitchen using the latest design software. Your project then moves through the ordering, installation validation, and installation phases of the process. Each step of the way, your personal project coordinator keeps you informed and your project moving towards an on-time, worry-free completion.
---
You can expect our Installation Teams to:
Have a clean, neat, and professional appearance with proper installer identification.
Walk the project with you and explain the installation process and necessary steps (e.g. evaluating access to power, determining approved parking areas, and suitable area for a workstation).
Show respect for you, your home, and your property.
Use drop cloths and proper protective materials (if needed) to protect your property from damage and debris during the installation.
Keep you informed of the status of the installation project and answer any questions that might arise during the installation.
Perform a quality installation to your expectations and the industry standards.
Complete the installation in a timely manner.
Review the completed project with you and answer any questions you may have.
Ensure all pertinent product paperwork is given to you at the completion of the project.
Leave all work areas clean and free of debris. Remove all installation trash and debris from the jobsite.
---
Copyright 2019 RF Installations L.L.C. All Rights Reserved.